Here are just a few of the services and solutions we offer at M&E Global Group.
Engineering & Design
Here at M&E, we have a full engineering team that is ready and prepared to design and engineer the most difficult of projects. Our team brings years of knowledge and creativity to the table that allows them to create concepts from small parts to full assemblies. With the use of the latest solid modeling software, we are able to convey ideas to our customers in total.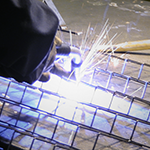 Prototyping
We can take your engineering and renderings and produce parts to spec. Our dedicated team is ready to offer any ideas and recommendations when it comes to any materials needed for the specified application. We create all of our prototypes production-ready to ensure the final product is in line with your original idea.
Warehousing
M&E offers two different plants with warehousing capabilities. All of our warehouses are temperature controlled and offer theft and alarm systems. We have the ability to barcode any product and use an internet-based tracking system to monitor your entire inventory.
Assembly
Our assembly and packing department offers experience in assembling and packing a wide range of parts and products. Provided as an additional service to your part fabrication process, we can guarantee that your parts will be packed and assembled with the best quality. Whether it is a small part packaged one per bag or a fully assembled piece packaged and boxed, we will pay particular attention to detail and make sure your product is packaged and assembled correctly.
Fulfillment
We pride ourselves on being able to handle your project from A to Z. We can and will completely manage all parts of the fulfillment process, giving you the ability to focus on other endeavors. From manufacturing to shipping, we have you covered.
Importing
To support our overseas projects, M&E works together with manufacturers and vendors based in China. We have a full-time employee located in Shanghai to assist us in managing your projects. We utilize this employee to perform quality control inspections to make sure we complete our clients' projects correctly. Also, we offer a process called a Domestic Guarantee. We will manufacture a fraction of your project domestically in our Joliet, IL plant while having the balance produced overseas – giving you a domestic turn-around time while utilizing the cost savings of importing.
Color Matching
M&E can color match your components or products. With our heat generated dying processes for plastic parts, or painting or japanning of metal fasteners, we will make your hardware match the color you require.